Cloud computing is one means of reducing costs and enhancing productivity. Unfortunately purchasing cloud services is a confusing and an error prone process since marketing hype and complexity can make assessing real cloud benefits nearly impossible for the average small business. Ascend IT Solutions works with its clients to determine what cloud services are appropriate given their specific business requirements and strategic goals. Ascend assists their clients in sorting through the hype and complexity surrounding cloud services so that business benefits and impacts are accurately understood, assessed, and more importantly, realized.
Ascend provides a comprehensive suite of secure and robust public, private, and hybrid Cloud Services:
Cloud Integration – Ascend's Application Integration services ensure that even remotely located Cloud data and applications are tightly integrated with your other business processes and resources to avoid unnecessary inefficiencies or data corruption.
Software as a Service (SaaS) – Software applications hosted in the cloud can provide some small business several operational and financial benefits. Hosted software applications include: Line of Business applications, CRM, Office 365, Hosted Microsoft® Exchange, Office Applications, SharePoint, and Lync to name a few.
Infrastructure as a Service (IaaS) – Ascend's IaaS service provides cloud based servers, storage, and network equipment such as routers, switches, and managed firewalls.
Platform as a Service (PaaS) – Scalable, on-demand cloud solutions enable your business to quickly build, deploy and manage applications.
Cloud Backup & Recovery – Cloud based backup provides for remote and secure backup of critical data and applications. Whole servers may be virtualized and backed up in the cloud to assure quick and Disaster Recovery even in the total loss of a facility.
Cloud Support – As part of Ascend's Managed Services offering, all of Ascend's Cloud Services are fully supported 24/7/365.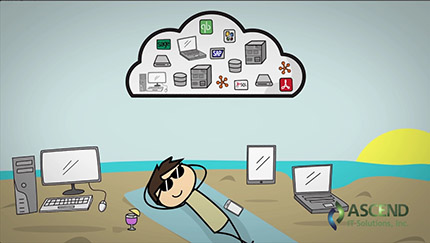 Contact us now to schedule a free consultation from Ascend IT Solutions. Let's advance your business.